2018 marked a busy year for North Shore's Vegetation Management Team having serviced more than 1,500 sites for a variety of clients.
"Although the majority of our clients are within the oil and gas sector, North Shore is fully licensed to serve clients within other industries including agriculture and forestry," says Colin Bergen, Manager of North Shore's Vegetation Management Team.
Since the team's inception in 2015, members of our Vegetation Management group have travelled across Canada, all the way from B.C. to Quebec to serve our clients, even accessing numerous sites in remote locations that require our teams to fly in and out to complete the projects.
North Shore's Difference
We can provide vegetation management services to our clients either in conjunction with our environmental consulting services or as a stand-alone service.
Rather than hiring an additional contractor just to spray weeds, North Shore already employs a number of consultants certified to manage weeds, otherwise known as "invasive species." While we are on-site completing assessments and other services, our team can recommend a vegetation management plan that will save both time and money for our clients.
"Our team always has the client's best interests in mind and we can be very efficient by combining weed control and consulting services," Colin says.
How it Works
When North Shore arrives to a site, an on-site assessment is completed before any work begins.
If invasive species are discovered during the assessment, a management plan will be implemented based on the Integrated Pest Management (IPM) principles, a set of guidelines that combines a series of vegetation management practices for pest and weed control.
If there is a need to conduct weed control, North Shore has a number of methods that can be used including; hand picking, weed whipping, and herbicide application.
"With sites that have a few patches of invasive species, we typically hand spray those areas with backpack sprayers," Colin explains. "This ensures accurate application and avoids unnecessary herbicide application in other areas of the site."
"For other sites with more severe infestations or larger areas, we can broadcast spray with equipment including ATVs, UTVs, and trucks with mounted sprayers," he adds.
Why it Works
When applied by properly trained applicators, herbicides are very effective at killing their target species and leaving desirable vegetation unharmed.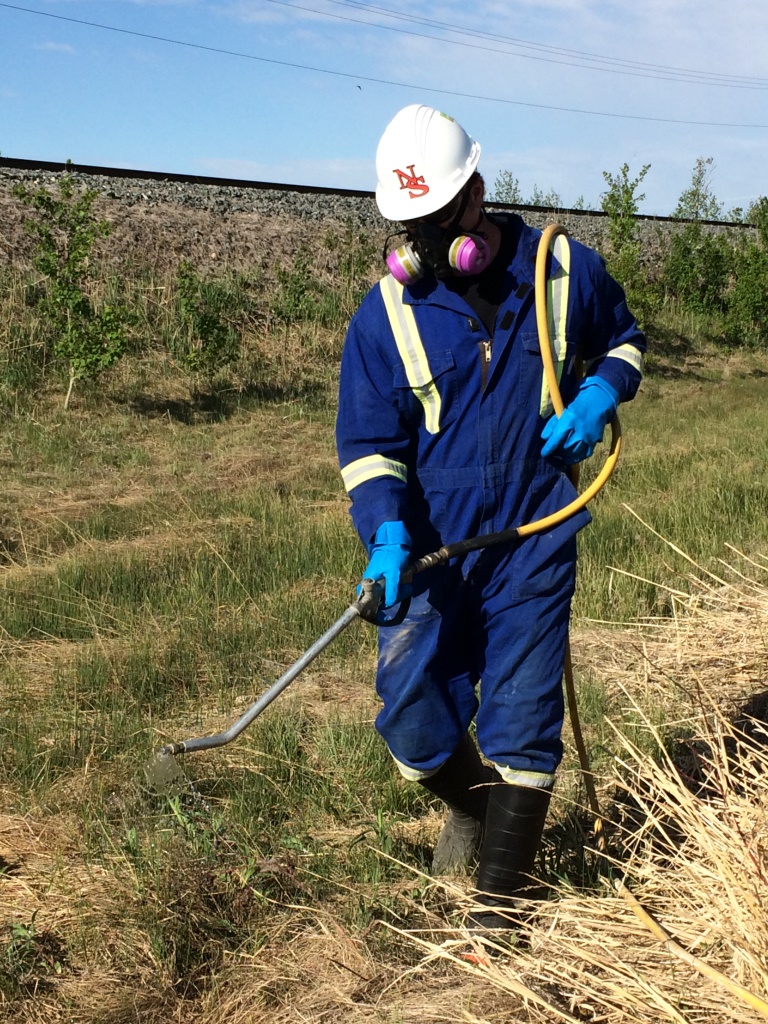 Herbicides used by North Shore are "systemic," meaning the product is absorbed by the target species and then spreads through the entire weed, including the roots. This gives spraying a distinct advantage over other methods of weed control, which often leave roots or root segments that can regrow.
"Our team uses herbicides that are considered 'reduced-risk' products. The products are effective at treating target species, while posing very little threat to mammals, birds, insects or aquatic organisms."
More than Weed Management
Colin says the Vegetation Management team's abilities span further than spraying weeds and the team has experience with a range of vegetation-related projects.
"Last year we helped our clients prepare sites for tree planting, implemented annual bare ground and selective weed control programs, and completed pasture renovations, which is a form of re-seeding damaged landscapes."
More Information
Contact North Shore to learn more about our Vegetation Management Services and how we can help with your next project.