North Shore recently moved away from our monthly "Top-Down" approach to employee recognition and developed a quarterly "Peer-to-Peer" process for determining Employee Recognition. This was done to allow all staff to partake in the process and have ownership in acknowledging their colleague's excellence, efforts, and achievements. For our first time using this new approach, 42 nominations were completed recognizing 30 individuals across all levels and divisions. Of the nominations, 77% were performed by non-managerial staff; so great work everybody and everyone's participation is greatly appreciated! The new process also allowed us to glean and track additional information from the comments given about nominees as to why a person was deserving. For this quarter, 53% of the nominations included the words "hard working" to describe the individual. A person's ethics were noted in 10% of the remarks. The below chart shows the 6 most used descriptor words in nominations: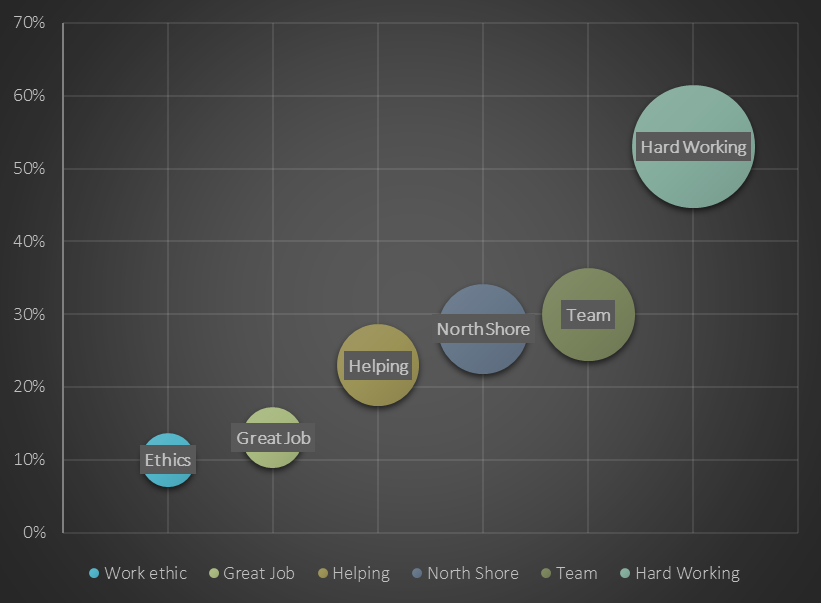 Without further delay, we are pleased to announce that Chad Benson is our Employee of the Quarter, as voted by his peers. Congratulations Chad! Recognized for her efforts, Brittany Porter was our 2nd place winner! In 3rd place, Joey Woehleke completes our group of winners.
Lastly, we would like to mention the runner up nominees (in no particular order): Cody McLean, Derek Morris, Emily Harrison, Greg Tough, Logan Beaumont, Sara Page, and Stacey Crossman.
Congratulations to both the winners and the runner ups! Your efforts have clearly not gone unnoticed amongst your peers!