The following post is an interview with Lucas Hewitt, Remediation/Reclamation Coordinator, and was written and conducted by Brett Delday, Senior Business Development Specialist.
Being an environmental consultant isn't easy. Even though we have many tools and technology at our disposal, we are often at the mercy of factors outside of our control. We are expert multitaskers, often responsible for cost estimating, procurement, safety, logistics, remote field work, technical writing, project management, drafting, accounting, and even business development. It takes a special kind of person to thrive in this industry and keep coming back for more. With that being said, I had a chance to catch up with one of North Shore's Remediation and Reclamation Coordinators based out of our Sherwood Park office, Mr. Lucas Hewitt. Lucas has been working for North Shore for over seven years and manages a variety of remediation and reclamation programs across Alberta and British Columbia.
First and most importantly, Flames or Oilers?
"Calgary Flames"
You passed the first test. Now that we got that out of the way, when did you first get interested in pursuing a career in the environmental industry?
"I graduated high school and wanted to pursue post-secondary education and had no idea what I wanted to do. I was working in oil and gas and heard about reclamation and decided to apply at Lakeland College for the Environmental Conservation and Reclamation program. I loved the program and everything I was learning had haven't had any regrets since.
Your role takes you to many remote locations, what are some of your favourite places/regions to work in?
"I have a few favorite fields, Livingstone, Tommy Lakes, Birch Mountains."
You must have had some interesting bear encounters over the years, care to share any?
"I was doing some groundwater sampling on a remote plant site, and we had a bear walk in on site; the helicopter pilot spotted it and started yelling at me to start making my way back to the helicopter. Thankfully the bear was on the other side of the infrastructure, and we used the air horn to deter the bear. I'm very thankful that the pilot was not napping and was keeping an eye and ear out for me."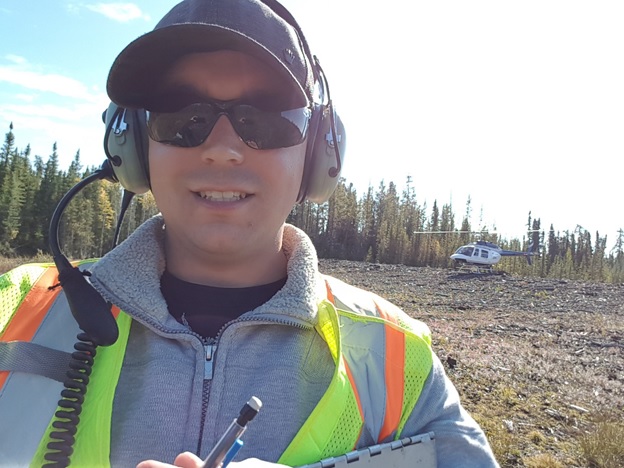 Yeah, no doubt that would have made for an awkward flight home… How do you keep yourself organized and focused when you have multiple projects and programs underway?
"I'm cursed with a good memory; I also have a lot of 3 am thoughts on what I need to do to keep the projects and programs on track. There's a lot of spreadsheets as well for different programs and what we are doing for the clients for their area based closure programs. Also, a lot of the planning and scheduling I do a fair bit ahead of time, and I've been known to call and schedule in services that I had already done the month prior for upcoming projects."
Yeah, I am also part of the 3 am thinking about work and spreadsheets gang. Do you have any tips for destressing after a hard day or long stretch in the field?
"I wouldn't call them tips, but I do enjoy cooking and baking; there is something about following a recipe and making something you can enjoy to share destressing."
What's a lesser-known fact about remediation/reclamation that some people may be unaware of?
"The way we do things and how we do things has constantly changed since I first started learning/working in reclamation in 2007. It's all based on new regulations and science, so you have to be constantly learning in this industry to be on top of it all. Fortunately North Shore is great at keeping us all in the loop."
What is the most satisfying aspect of your role at North Shore?
"Successfully completing some of our clients larger scale projects; after weeks or months of prepping and planning for the project and working with our teams and the client to execute and complete the projects is fairly satisfying."
Any words of advice for people new to the environmental consulting industry?
"It's not an easy industry, it's constantly changing and there are a lot of challenges that can be overwhelming at times, but the best thing is the variety of work, you are never stuck on doing the same thing for months or years on end. It's also a great way to travel and explore western Canada, you'll have more exposure and experiences than anyone else you know working a 9-5 job."
I couldn't have said it better, thanks for taking the time to chat with me Lucas!